Talk 2021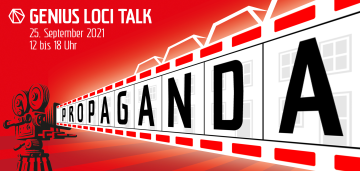 Propaganda and public space
Large-scale projections in public space - progressive urban culture or historical glorification in a digital setting? 'Propaganda and public space' is the topic of this year's Genius Loci Talk. We want to question the power of the effect and the responsible handling that goes along with it when using this new, popular art form.


The Genius Loci Talk will take place on Saturday, September 25, 2021 from 12-6 p.m. at the Reithaus Weimar. The Reithaus is located in the Park an der Ilm, near Platz der Demokratie. The talk will be held in German this year.


Propaganda and public space
500 years of Bible translation, 100 years of the Weimar Constitution, 30 years of the fall of the Berlin Wall - In large-scale projections, historical and social contexts and anniversaries are increasingly taken up and reflected in short, visually powerful productions. Public space is staged by means of modern media, overwhelming in form and aesthetics. In this way, it becomes the carrier of a historical narrative that regularly presents the true events and backgrounds only in a very condensed form. Where does art end and propaganda begin?

Speakers (confirmed)

Prof. Dr. phil. habil. Max Welch Guerra (Bauhaus- Universität Weimar)
Prof. Dr. Johan Frederik Hartle (Akademie der bildenden Künste Wien)
Ludger Pfanz (Hochschule für Gestaltung Karlsruhe)
Hendrik Wendler (Genius Loci Weimar)
Moderation
Thorsten Bauer (STUDIOBAUER)
Registration
Participation in the Genius Loci Talk is limited. Until 10.09.2021 you can register bindingly by mail to orga@genius-loci-weimar.org. A fee of €85.00 includes participation in the symposium, a festival badge, refreshments during breaks and a buffet lunch. Afterwards, you can take advantage of the festival's offerings. A reduced price of €8.50 applies to students.
Hygiene regulations
During the event, the current hygiene regulations for indoor events are valid. We ask all participants to show proof of their complete Covid-19 vaccination, immunity or a daily negative test.